Everything You Need to Know Before You Buy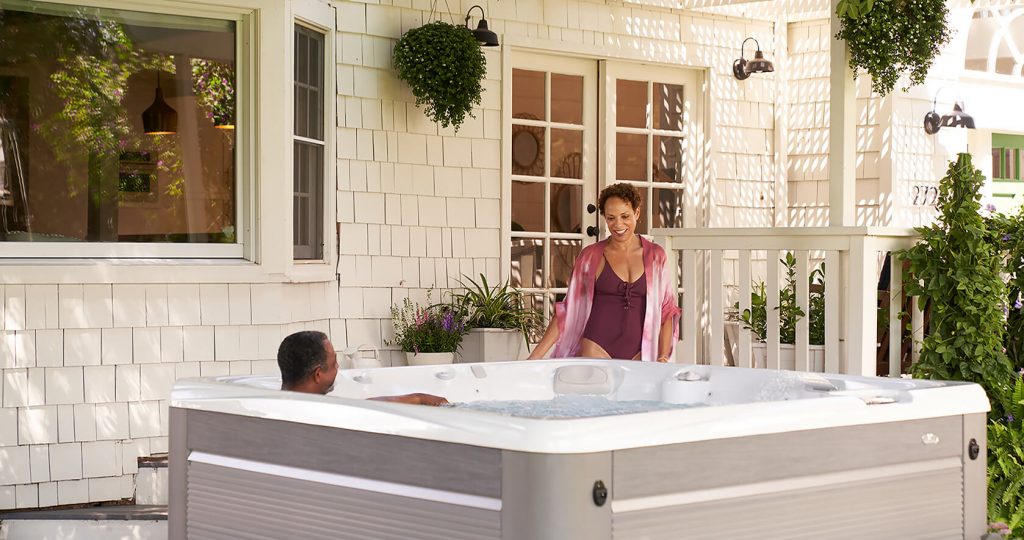 Choosing Your Hot Tub's Foundation
When purchasing a hot tub, where you will put it will be the first question that needs answering. Hot tubs are quite heavy when filled, and will need a solid and level foundation to sit on. When considering your hot tub's foundation, there are four main options to choose between: a spa pad, pouring a concrete slab, a wooden deck, or pavers. Each method will vary in styling, functionality, and price. 
For those working on a budget, spa pads can create a simple and easy foundation for your hot tub with minimal cost and effort, they usually come in the form of interlocking thick rubber pads that form a solid base for your hot tub. 
The simplest and most common foundation is a concrete slab. Pouring a concrete slab will also be relatively inexpensive and quick. Concrete slabs are very durable and will easily last the life of your spa. 
Another common place hot tub owners like to house their spas are wooden decks. While most wooden decks are stable enough to uphold the full weight of a filled hot tub, you will need to call in an expert to assess that your deck is structurally sound enough. Another option is to blend a concrete slab with a wooden deck. Some homeowners choose to place their hot tubs on a concrete slab under their deck, with the top of the hot tub seamlessly rising through for easy access. 
The last method that is commonly used, is placing your hot tub on pavers, many homes already have areas covered in pavers, and can be used as a solid foundation for your spa.
If you're thinking about purchasing a home spa, you probably have some questions about the difference between 110v, 220v, 230v, and 240v hot tubs and how to prepare for the direct wiring of a spa. 110 volt hot tubs are usually referred to as "plug and ply" hot tubs and can plug into any standard 110 volt outlet. Larger hot tubs usually require a 220v, 230v, or 240v connection which are interchangeable terms. In North America, power enters a home at 240v and is split into two 120v circuits that go to your wall outlets. This means to set up a 240v connection,  you will need to wire your hot tub directly into your home's central circuit breaker box.
In North America, power enters a home at 240v and is split into two 120v circuits that go to your wall outlets. It's important to know that these numbers represent the voltage potential; the true force of current can vary by as much 5 percent lower or higher. This means that 220v, 230v, and 240v are interchangeable terms and that most plug-and-play spas can connect to 110v, 115v, and 120v outlets.
Adding Water to Your Hot Tub
Usually, adding water to your hot tub is as easy as dropping a hose in and letting it fill up. On some models, however, this can cause issues with air bubbles getting into the trapped in your hot tubs plumbing and causing issues. To prevent this, some brands will have a designated area to connect your hose to in order to fill up your spa.
If you are using a spa with an ozone generator, you may need to attach a piece of filter material to the end of your hose to catch loose impurities prevalent in normal tap water. 
Cost of Hot Tub Installation
The cost of your hot tub foundation can range from 0-$1,000+ depending on if you already have a solid foundation, or if you decide to build a custom deck for your hot tub. For reference, spa pads range in price from $100 to $500, and concrete slabs range from $900 – $2,000.
The cost of having a professional electrician wire a hot tub usually ranges from $200 – $500.
Delivery can also be costly if you require a crane to lift the hot tub into your backyard, which can cost between $500 – $1,000. Usually, a portion of a fence Is taken down, and a hot tub will be carried into place by multiple people.